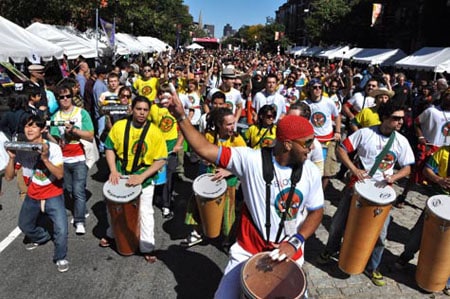 Marcus Santos' aNova Brazil group has a special sound and energy inspired by Marcus' hometown; Bahia, Brazil. This is a a very upbeat and interactive show that you can not miss! This 12-piece percussion ensemble guarantees a spectacular show combining traditional Brazilian grooves like Samba and Axé with Funk, Rock, Jazz and Hip Hop.
Marcus has performed world wide in festivals in the US, Brazil, Venezuela, Italy, Mexico, Holland, Japan and Thailand. Marcus is also featured at BOSE's Musically Speaking II DVD, Rush's drummer Neil Peart newest DVD and at the Sony Pictures movie "Rachel is Getting Married" with Ann Hathaway. Marcus Santos is endorsed by Latin Percussion Instruments, Sabian Cymbals, Vic Firth Sticks, Evans drumheads, Gibraltar Hardware and Cooperman Frame Drums.
Find out more at their band website!