Honk Parades for 2012!
  Parades have been important an important part of the Honk! Festival since it started, and in 2012 we expanded our parading with the addition of Friday-evening lantern parades in neighborhoods in Davis Square.
  Friday afternoon lantern making workshops in Hodgkins Park, in Davis Square, Somerville, lead by Sara Peattie, Mark Pelletier, Parts and Crafts, and Katya Popova, and then conducted five parades with brass bands on different routes in the neighborhood.  There are some photographs of these parades by dreamexplorer
here
.
  Our Sunday parade from Davis Square to Harvard Square, to "Reclaim the Streets for Horns, Bikes, and Feet" included 37 bands and 42 different community contingents, the largest Honk parade so far.  See documentation of the Sunday parade at the following sites:
  1. Still photographs on
Flickr
.
  4. leftbankofthecharles'
two-part documentation
from Cambridge Common: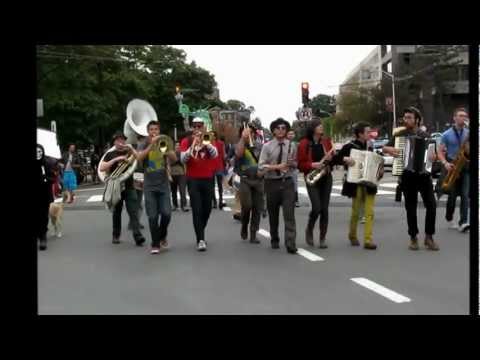 Thanks to all the volunteers, community groups and bands who made the 2012 Honk! Parades possible!  We hope to see you next year as well.
Contact us to volunteer, comment, or ask questions at [email protected]
PARADE RESOURCES