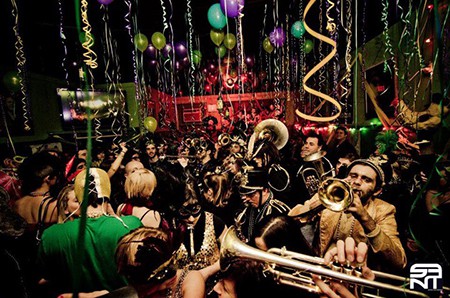 The Detroit Party Marching Band is an ever-evolving collective of 25 + Detroit area musicians devoted to frenetic revelry, driving jams, and the power of the un-amplified horn blast. Their music celebrates the spirit of street bands: a mobile, parade-ready mix of the Balkans, New Orleans, American Rhythm and Blues and more, played loudly and joyfully. Since 2010, the Detroit Party Marching Band has brought high energy music to unconventional spaces in celebration of life and community in & around Detroit.
The group has been featured in the New York Times, the Detroit News, and French Glamour, as well as in a documentary by HBO France. They've toured the midwest and northeast United States, paraded through the streets of New Orleans for Mardi Gras, and shared the stage with the likes of My Brightest Diamond, Band of Horses, and a range of other musical and visual performers.
Find out more at their band website!