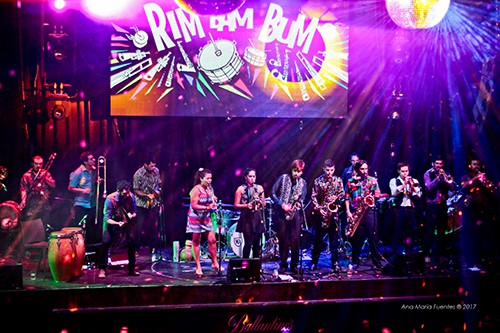 Inspired by the traditional rhythms of Andean culture, Latin American Carnival, and the fusions of Afro-Latin rhythms, the rhythmic mixtures of Rim Bam Bum will awaken the senses to vivid expressions of celebration. Their proposal takes the audience on a sonorous journey that travels through the iconic and diverse rhythms of a carnival party, where this festive spirit of music is embodied.
Banda Rim Bam Bum is an ensemble of 20 wind and percussionists, along with a figurín who brings them to life. In 2016, after 6 years of deepening their artistic work, their first musical album "Imparable" was born. With 11 original compositions, the album flows through rhythms and melodies of the Latin America, such as morenada, diablada, tinku, salsa and frevo, in addition to funk, ska, and rocksteady fusions.
In 2022, the Band released their latest single called "Amazonía," inspired by traditional Andean rhythms and compositions. It proposes a rocksteady fusion with morenada language. "Amazonía" calls us to defend nature, to fight against extractivism, and to advocate against the indiscriminate abuse of the flora and fauna of our planet. This vision is captured in the band's video clip, which through organic illustrations portrays the struggle between the jungle – their ancestral territory – and the advancements of urbanization.
Find out more at their band website!