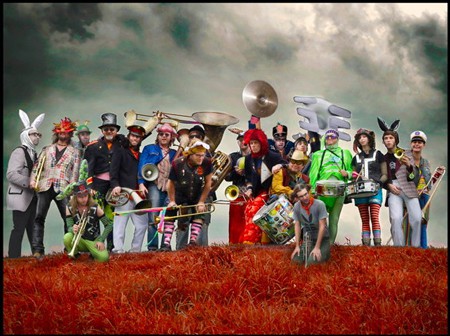 Chicago brass band and performance art group Environmental Encroachment (EE) uses a mobile band, costumes, and antics to create unique entertainment environments. EE's mission is to create playgrounds for the body and mind through dance, music and art.
EE's music fuses a horn section with marching and melodic percussion. Rhythms include 'world' beats and non-traditional American drumline. EE writes adn performs many original songs, and songs from other HONK bands. Environmental Encroachment also wears costumes, and often works with multi-media performance and artistic collaborators.
Performances include stage shows, parades, weddings, funerals, historical re-enactments, children's shows, holiday theme parties, street busking, second-line processions, festivals, performance workshops, rituals, block parties, media and press conferences, circus sideshows, music for burlesque, birthdays, unvellings, coronations, proms, vaudevillian skits, and synchronized swimming with sousaphones.
Find out more at their band website!