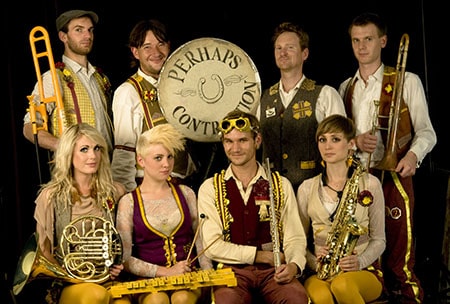 Perhaps Contraption is an astonishing, progressive marching band.
Led by artistic director Squier Squier, this troupe's latest incarnation is a brass, voice, woodwind and drum powered avant-marching band which draws upon art pop, progressive rock, oompah and contemporary classical elements such as polyrhythm and post minimalism.
Since June 2011, this 9 strong ensemble has performed over 200 times at numerous events including Glastonbury, The Secret Garden Party, Bestival, Artisti in Piazza (Italy), Wilderness, Lovebox, Durham Brass Festival and London 2012 Olympic and Paralympic games.
By blending unique and intricate instrumentation with choreography, costume and exuberant choral sections, an exciting, nascent contemporary performance troupe has been assembled. They create experiences that are simultaneously accessible, astonishing and wholly entertaining.
Their most recent album Listening Bones embodies this bold new sound. The music touches upon the joyous and irreverent, the dark and piquant, the oom-pah and the sublime. It will make you move, it will make you think.
At the heart of their work lies a passionate desire to create strikingly original, eccentric music that can be presented in a range of versatile outlets. Whether it's situationist street parades, educational workshops or full scale theatrical collaborations with dancers and lighting designers, Perhaps Contraption immerse and surprise by breaking down traditional performer/audience boundaries, and by promoting the use of unique instrumentation in popular music.
Find out more at their band website!