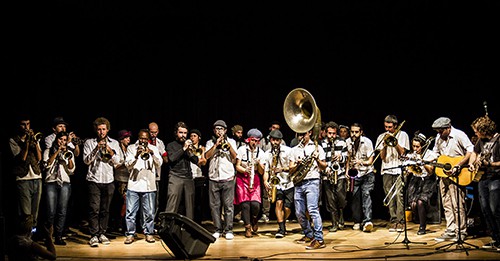 Unidos do Swing is a Brazilian street brass band that loves to mix traditional jazz music with Brazilian carnival.
The fanfare, created in 2014, was inspired by the tradition of New Orleans street parades; envolving a group of street artists from São Paulo, mixing music, dance and circus. The group presents original tunes, Swing Jazz songs, Grooves, Marchinhas, Baião and other Brazilian rhythms.
Along the year, the group coordinate weekly open rehearsals in public space (MASP – Art Museum of São Paulo).
Between 2014 and 2018 the group has organized 4 carnival parades, participated in the protest against the end of our Ministry of Culture in Funarte 2016, made musical actions in public libraries (Circuito Municipal de Cultura SP 2016), participated of 2 Honk Festival Rio de Janeiro and organized, along other fanfares, the first Honk São Paulo in 2017.
Throughout the years, we have partnered up with several art colectives such as the lindy hop iniciative Jazz na Rua and the weekly circus training Circo no Beco. Both movements also defend ocupation of public space with art. Beside the street open shows the group has played in the main jazz club of São Paulo: Jazz nos Fundos, joined the Circuito Sesc de Artes 2018 visiting 6 cities of the São Paulo state.
Find out more at their band website!