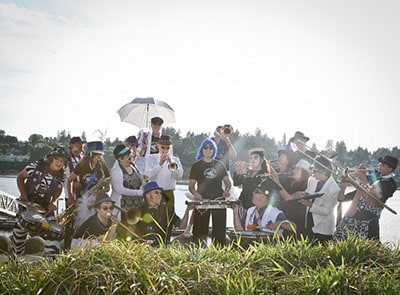 It all started when our ancestors crawled out of the sea, and in no time at all, with the addition of opposable thumbs, we came together and formed the Artesian Rumble Arkestra.
The music of the Artesian Rumble Arkestra is influenced by many traditions, including jazz, Balkan Brass, Brazilian samba, Bollywood film music, traditional hymns and pop tunes. The Artesian Rumble Arkestra works to contribute its portable and mostly unamplified energy to local social and economic justice events.
We support:
Olympia Fellowship of Reconciliation
Women in Black
Transition Olympia Climate Action
TCTV
Earthbound Productions
Interfaith Works
Planned Parenthood
Honk Fest West
Find out more at their band website!