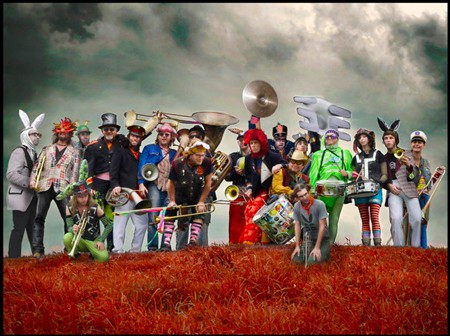 Chicago performance art group Environmental Encroachment (EE) uses an artist marching band and theatrics to create unique entertainment environments. Performances can include costumes, live music, parades, fire spinning, hula hoops, antics, and audience interaction. EE Marching Band's music uses Latin, North African, and traditional American rhythms, fused with a full brass section and on-call electric bass. Songs are folkloric fusions, classics and our creations inspired from New Orleans Second Line, Jazz and Rock.
EE's magic circus marching band has evolved as part of a new genre of music:
"Across the country and around the world, a new type of street band is emerging. Acoustic and mobile, borrowing repertoire and inspiration from a diverse set of folk music traditions – New Orleans second line brass bands, European Klezmer, Balkan and Romani music, Brazilian Afro Bloc and Frevo traditions, as well as the passion and spirit of Mardi Gras and Carnival– these "honkers" all share a commitment to several core principles. Metaphorically speaking, they honk their horns for the same reasons motorists honk theirs: to arouse fellow travelers, to warn of danger, to celebrate milestones, and to just plain have fun."
www.honkfest.org
EE has done and can do parades, weddings, funerals, historical re-enactments, children's shows, Halloween shows, street busking, second-line, festivals, performance workshops, rituals, marching band flags, circusesque sideshows, music for burlesque, vaudevillian skits, straight out music jams and synchronized swimming with tubas.
Environmental Encroachment started in 1996, with playground installations and live music interactions for people to play, be childlike, curious, free and happy.
Select Festivals:

Electric Forest

Sourth By Southwest

Lollapalooza

RIOT Fest 

Chicago World Music Festival

HONK! Street Band Festivals (Seattle, Boston, Providence, Austin) 

Burning Man

Houston Art Car Parade

Puppetropolis

Lotus World Music Festival 

Chicago Children's Music Festival

Chicago Folk and Roots Festival

Chicago Bluegrass and Blues Festival

WZRD College Radio Spring Festival

Cleveland Performance Art Festival

Black Sheep Puppet Festival

Rotary Club's Centennial Celebration

Chiditarod Shopping Cart Race 

Michigan Peace and Music Festival

Chicago Peace Festival

Renegade Craft Fair

SummerCamp

Taste of Randolph Street

Land of NOD Experiment
Select Venues:

Queens Museum of Art, NY

Field Museum of Natural History, Chicago

Museum of Science and Industry, Chicago

Museum of Contemporary Art, Chicago

Krannert Museum of Art, Champaign, IL

Harley Davidson Museum, Milwaukee, WI

Oriental Institute, Chicago 

Millenium Park, Pritzker Pavillion

Chicago Cultural Center

Sky Church, Seattle Center, WA

Old Town School of Folk Music

Gallery 37 Storefront Theater

The Chicago Theater

The Congress Theater

City of Chicago Halloween Parade

Unity Temple by Frank Lloyd Wright

Chicago's Navy Pier 

Chicago Motor Speedway, NASCAR

Vassar College, NY

Staten Island Ferry NY

Northeastern University

Stone Scholastic Academy

Chicago Waldorf School

The Orange Show, Houston TX

Ravenswood Buddhist Temple

Harvard Square Octoberfest Celebration, MA

The Glessner House

The Rookery Buidling

Cabaret Metro
Find out more at their band website!