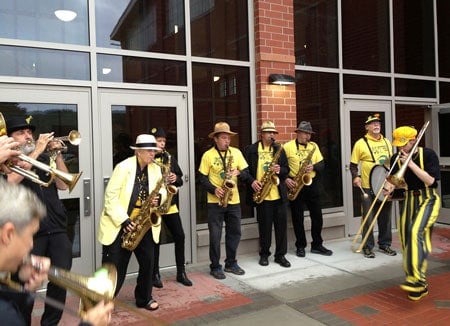 An eclectic mix of musicians of all ages and backgrounds, the Expandable Brass has delighted audiences around western Massachusetts and beyond. In its 6th year of existence, the band now numbers over 20 members. Playing tunes of various genres such as latin, rock, disco, swing, funk, and originals, the band has rocked audiences at events such as the Northampton Jazz Festival, art council events, fundraisers, laundromat pageants, wine tastings, weddings, political events,
and a wide variety of parades and festivals. With the popularity and re-emergence of street (non-amplified!) bands, we find ourselves in high demand, our slogan being "they love us." Team colors are yellow and black, but you'll hear us before you see us!
Find out more at their band website!