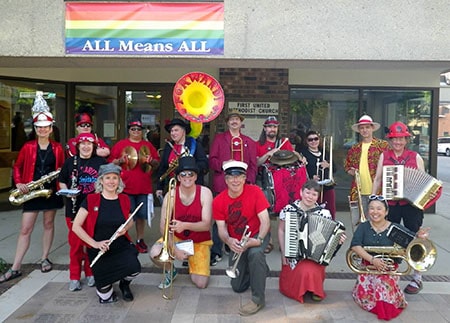 Forward! Marching Band formed in Madison during January 2011, adopting the progressive motto of Wisconsin as the band's name in response to the inauguration of the state's new regressive governor. When the governor launched his surprise assault on collective bargaining in February, Forward! immediately swung into action, bringing music and energy to the soon-to-be immense street protests amid the frigid Wisconsin winter. For the next two months, the band marched and played nearly daily to sustain the movement until the reistance effort shifted from street protesting to election recall petitioning.
Forward! now plays at a broad variety of political marches and rallies, as well as supporting performances of the Madtown Liberty Players, Madison's political street theater troupe. Forward!'s repertoire, featuring New Orleans jazz, Balkan music and assorted Wisconsin-connected tunes surrounding a core of labor songs, preserves the legacy of Wisconsin's winter uprising while continuing to agitate for progress. Forward!
Find out more at their band website!