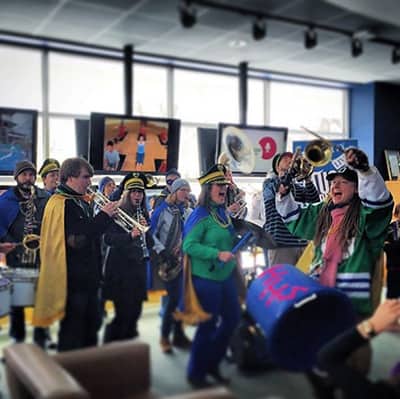 Hartford needed a funky marching band to bring brass, ruckus, and joy to all the parties. In 2012, we set out to be that band.
You remember how in the intro to The A-Team, it said, "If you have a problem, if no one else can help, and if you can find them, maybe you can hire … THE A-TEAM"? We're pretty much like that, provided that the problem you have is a lack of brass and ruckus. Also, we don't punch dudes, we're not on the run from the law (yet), and we're pretty easy to find. But we do have a sweet bus!
If you are a personal friend of ours or a local non-profit or arts organization, we'll probably play at your event for free. If you're not one of those things, we'll probably play at your event for a modest fee, unless your event is really weird or fun or delightful, in which case we might play for free. We like playing indoors or outdoors, we don't require any setup, and we're mostly pretty nice. We'll often play for beer and food, but keep in mind that there's a lot of us and we're not shy with the drink.
If you want us to come rock your party, you should get in touch. If you're nice and you play a horn or other instrument that can generate sufficient volume without amplification, and you want to join our merry band, you should get in touch. We have a couple of extra horns, so even if you don't have one, we might could set you up.
Find out more at their band website!