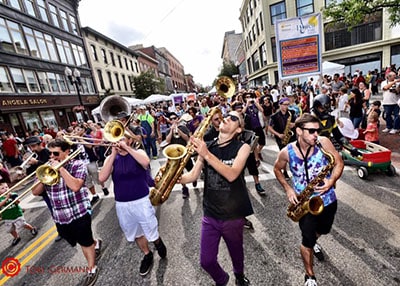 The Party Band is a 20-something piece brass band from Lowell, MA. Equally at home inside concert venues, schools, music festivals, and community events, we will always bring booty shaking music and set off a party.
You may have seen us at music festivals all around the Northeast, including Madsummer Meltdown (PA), Bella Terra (NY), Monadstock (NH), Green Love (ME), Disc Jam, Strange Creek, HONK!Fest, Outside the Box, and Hempfest.
While our central goal is to make grooving music that moves our audience, we are committed to three core values: Education, Celebration, and Community.
Education
The Party Band creates and performs young audience shows at local schools. We can play for any age group and often tailor our performances to our audience. We've played for students of all ages, and always leave the audience with new, exciting knowledge that they can take home. We held an instrument drive in the fall of 2014 to support the music programs of the Lowell Public Schools. We were able to collect, repair and give away over twenty instruments to deserving band programs and students in the Lowell community.
Celebration
Each Party Band performance is a celebration in its own right. We have played at celebrations of life, friendship, music, matrimony, remembrance, and crop harvesting, to name just a few.
Planning a party and need some live music? Contact us. We are fully mobile and all-acoustic, able to adjust our formula at any time to best serve the moment.
Community
In the warmer months, you can often hear The Party Band playing in Lowell's streets, farmer's markets, and community celebrations. We have hosted numerous local music festivals under the name "Pure Cosmic Bop," supporting a budding and diverse jazz scene. Since 2013, the five Cosmic Bop events have showcased over 30 local and regional bands in downtown Lowell.
Our musical style draws on inspirations from jazz, funk, the music of New Orleans, West Africa, and the streets of Planet Earth. With a heavy emphasis on playing our own original music, our ears are always searching for innovative ways to present ourselves.
Keep up to date on our happenings and whereabouts here: http://www.partybandlowell.com/
Find out more at their band website!