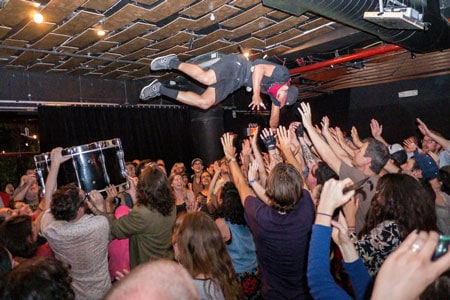 The What Cheer? Brigade is a 20+ piece brass band from Providence, RI, USA. Their sound is an aggressive mix of Bollywood, The Balkans, Klezmer, New Orleans, and Samba played with the intensity of metal. Untethered to the stage, What Cheer's raucous live shows explode the relationship between performer and audience while proving that loud, fun music doesn't require electricity. Equally at home in sweaty clubs, concert halls, parties, festival fields, and
community events, What Cheer defies categorization, appealing to old and young from all walks of life.
They've played at The Newport Folk Festival, Lollapalooza, Aarhus Festival (Denmark), The Reykjavik Jazz Festival, Bestival (UK), Haizetara (Spain), Sziget (Hungary), and Guča (Serbia).
Find out more at their band website!